Last night's Nintendo Direct video presentation included new trailers and a few new tidbits about the long-awaited Legend of Zelda: Tears of the Kingdom. But that presentation didn't mention one of the game's newest "features"—a $70 price tag.
The $70 base price—a first for a first-party Switch title—was confirmed by Nintendo's own eShop preorder page (and an accompanying press release) Wednesday night. Not all of Nintendo's major upcoming first-party releases will see a similar price increase, though—Pikmin 4, for instance, has been listed at a $59.99 MSRP on the eShop.
"We determine the suggested retail price for any Nintendo product on a case-by-case basis," Nintendo said in a statement provided to Game Informer.
Third-party retailers like Amazon and Walmart had previously listed Tears of the Kingdom at $60, a price that should be honored for those who were able to secure a preorder before yesterday. Those still looking for a deal can spend $100 for two Nintendo Switch Game Vouchers, each of which allows for a download of select high-priced Switch titles, including Tears of the Kingdom.
An unstoppable trend?
Nintendo is far from alone in breaking console gaming's de facto $60 price ceiling, which was set back in the Xbox 360 and PS3 era. Xbox-maker Microsoft announced just a few months ago that upcoming games like Starfield, Redfall, and the next Forza Motorsport would launch at $70 this year, for instance. And years of inflation have made today's $70 game pricing somewhat comparable to the $60 games of decades past.
Still, the Zelda price point is made more significant by the fact that first-party Nintendo titles can amass tens of millions of sales despite almost never going on sale. By contrast, major first-party exclusives on other consoles are often available at discounts months after launch or are offered for free as part of a subscription package (in an exception that proves the rule, the original Breath of the Wild is being offered for $40 on the Nintendo eShop until February 19).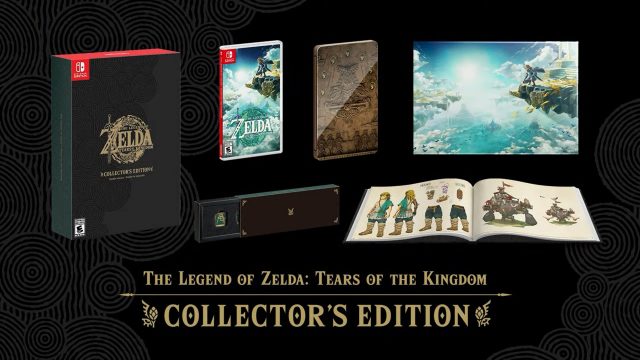 In an investor Q&A earlier this week (as translated by Video Games Chronicle), Nintendo President Shuntaro Furukawa said the company has "done our best to maintain both its value and price of hardware and software in our long-term business strategy. We do not believe that any changes to this policy are necessary at this stage."
In addition to the $70 base game, Nintendo is also offering Tears of the Kingdom as part of a $130 physical Collector's Edition, which includes an art book, Steelbook game case, steel poster, and set of four collectible pins. The game is set for release on May 12.