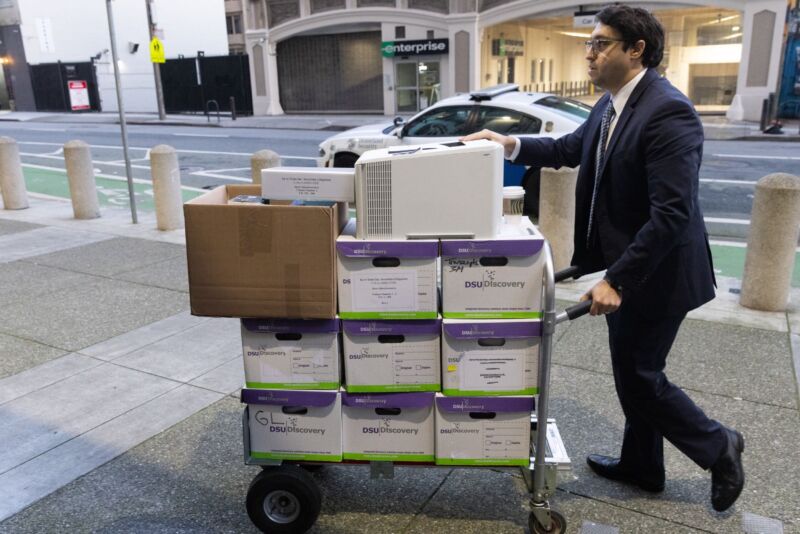 Jury selection in a class-action lawsuit against Tesla CEO Elon Musk began today in a federal courthouse in San Francisco. Not surprisingly, potential jurors already knew who Musk is, and some expressed strong, negative opinions about him.
One woman called Musk "talented but crazy" in a questionnaire distributed to potential jurors. Other potential jurors described Musk as arrogant, narcissistic, unpredictable, and irrational. One said Musk has a mercenary personality.
That doesn't mean Musk won't get a fair trial. The jury selection process, while imperfect, is designed to exclude jurors who cannot make impartial judgments based on the evidence.
Musk's lawyers previously tried to get the case moved out of San Francisco, arguing that the jury pool was already too biased against him. Judge Edward Chen rejected the attempt, saying at a hearing Friday that Musk "does have a lot of fans out there." Today, Musk's lawyers pressed some jurors on whether they can be fair given that they expressed strong views about Musk or his use of social media.
Lead plaintiff Glen Littleton is seeking billions of dollars in damages for a class of investors who bought Tesla shares at inflated prices and sold at a loss after Musk's false claim in 2018 that he had secured funding to take Tesla private at $420 per share. Chen, a judge at US District Court for the Northern District of California, already ruled that Musk recklessly made false statements on Twitter.
But there are substantial questions for the jury to decide during the 10-day trial. You can read a more thorough preview of the case in this article. Jury selection was continuing at the time this article was published but could wrap up today. We listened to portions of jury selection via the trial's Zoom link.
"I can try to be neutral"
Like numerous others, the woman who called Musk "talented but crazy" answered questions from the judge and the sides' lawyers about her views on Musk. She said that "social media is not the outlet to handle" professional tasks and that she "would expect someone more professional" to be the CEO of a major company.
Noting that the case is about Musk's tweets, Chen asked the woman if she could be fair given her opinions on Musk's use of social media. "I can try to be neutral," she said.
After Musk's lawyer pressed her on her statements, she said, "I probably have some bias. If I get picked and have to do this, all I can do is recalibrate and look at the evidence and try to be fair."
One potential juror called Musk "arrogant" but also a "genius." The man said his views of Musk have become more negative since he bought Twitter. "Before that he just seemed like another arrogant rich guy," he said. Despite that, the man said his opinions would not prevent him from being fair.
"A bit arrogant and narcissistic"
A woman who called Musk arrogant, unpredictable, and irrational criticized his insistence on keeping Tesla factories open despite local shelter-in-place orders during the early days of the pandemic.
One woman who said Musk comes off as "a bit arrogant and narcissistic" in interviews said she could be a fair juror. "A lot of people aren't necessarily likable people but that doesn't mean you should judge them on that," she said in response to a question from Chen.
"I truly believe you can't judge a person until you've walked a mile in their shoes," she said after being asked by Musk's lawyer if her views would consciously or subconsciously affect her during the trial.
A man who said Musk has a "mercenary personality" said that type of personality could lead to good outcomes. "He seems to have a strong personality and does what he wants… I'm just using that [phrase] to say that he's willing to take a risk, chances, and do things that maybe some other people don't have the gumption to do."
"I don't think I'm right for this case"
One concern for Musk's side was finding jurors who won't pre-judge the case based on the fact that the judge had already ruled Musk's tweets were false.
"You'll be told that Musk's tweets were inaccurate. You're going to be asked to decide whether, in the context in which they were made, were they important to a reasonable investor in buying and selling a security," Musk's lawyer told jurors.
Musk's lawyer repeatedly asked potential jurors to think about whether this was the right case for them. "I don't think I'm right for this case necessarily," one man said. "I have a lot of opinions."
An Associated Press article said that 52 people were summoned for possible selection on the jury. After Musk lawyer Alex Spiro expressed "grave concerns about sitting a fair and impartial jury," Chen "agreed that eight prospective jurors who had expressed extreme misgivings or enthusiasm about Musk in pretrial questionnaires would be questioned in private to reduce the chances of affecting the opinions of other people in the courtroom."