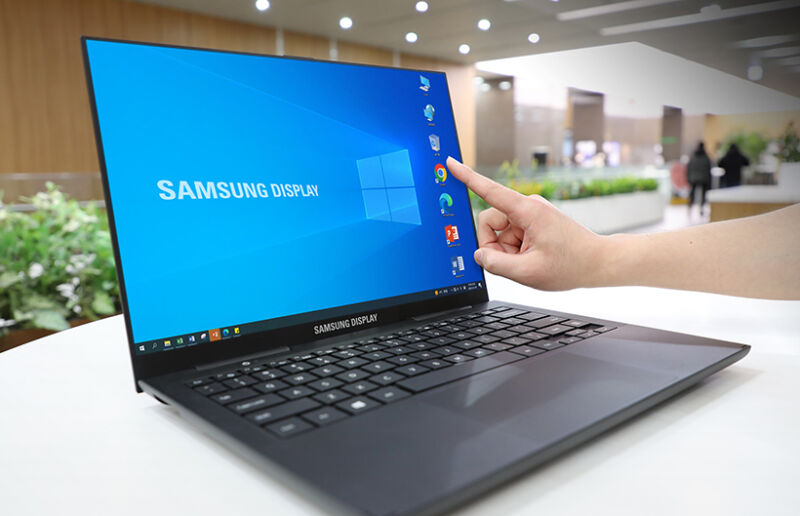 As plenty of laptop makers proved at CES earlier this month, there will be plenty of OLED laptops to choose from in 2023. The technology's high-contrast, rich image quality has tempted creatives and power users alike. A new year means new ways to entice shoppers, though, so one approach Samsung plans to take with its next series of Galaxy Books concerns the screen's physical build.
On Tuesday, Samsung Display, which makes display panels for various companies, including parent company Samsung Electronics, announced that it started mass production of a new touch-capable OLED laptop screen. Samsung Display is calling it the first On Cell Touch AMOLED (OCTA) screen for laptops. Per a Google translation of the South Korea-based company's announcement, these screens use embedded touch sensors, whereas other OLED laptop panels use adhesive to apply a film screen with touch sensors. According to Samsung Display, the film represents 6 to 11 percent of the screen's thickness.
Because it uses fewer materials, Samsung Display also claims its OCTA technology is more environmentally friendly than the previous design and will weigh less due to a "simplified" panel structure.
Samsung Display is clearly targeting the panels at the high end by including specs like a 16:10 aspect ratio and "3K" resolution, which we expect to mean 2880×1800. Samsung Display's announcement included an image of a 16-inch panel in a concept laptop. With a 16-inch screen and 2880×1800 pixels, the OLED screen would have a pixel density of 212.3 pixels per inch.
The screens will also support a 120 Hz refresh rate. High refresh rates already tax battery life, but with the panels also being OLED and potentially aimed at thinner laptop designs with less room for a beefy battery and cooling, battery life will be a top concern for PCs adopting OCTA.
Samsung Display said that it expects the panels to debut in Samsung's next series of Galaxy Book laptops, which will come out in February and will be "highly portable." Samsung is expected to announce its new Galaxy Book PCs at its Galaxy Unpacked Event on February 1. Beyond Samsung, the OLED screens are supposed to be appropriate for "medium-sized" laptops.
The new laptop touchscreens with OLED computing displays are finally starting to improve selection. In the laptop realm, some of the most extreme designs anticipated for 2023 include the Lenovo Yoga Book 9i, which has two 13.3-inch OLED screens; and the Asus ProArt Studiobook 16 3D OLED (H7604) and Vivobook Pro 16 3D OLED (K6604), both of which have glasses-free 3D OLED. In fact, pretty much every laptop in Asus' 2023 lineup will have an OLED option. There will also be more budget OLED options this year, and the technology is starting to make a play for gamers, with 240 Hz OLED laptop panels (also made by Samsung Display).
Samsung Display's OCTA OLED has primarily appeared in smartphones since the manufacturer debuted it in 2010. If the design proves successful in laptops, companies could gain a little more space for things like longer-lasting batteries, improved cooling for boosted production, or, dare we dream, better port selection than what is currently available in OLED laptops.