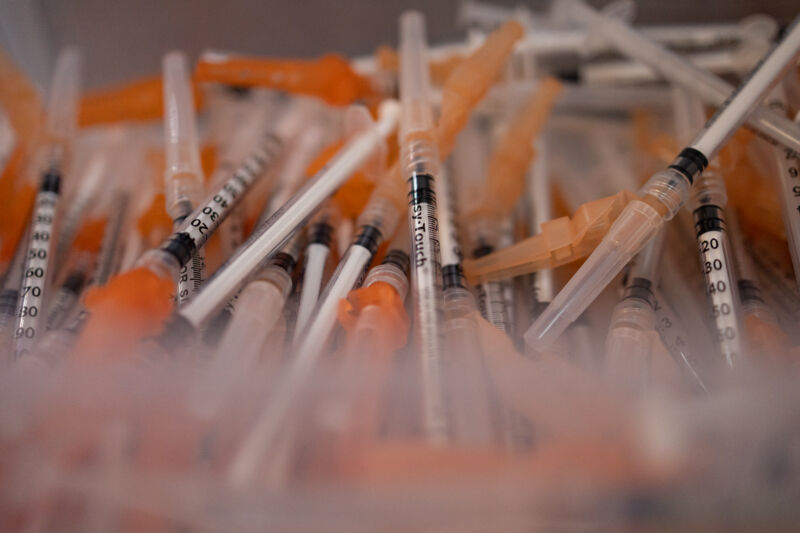 A Utah plastic surgeon and three of his associates are facing federal charges for a year-long scheme in which they allegedly squirted around 2,000 vaccine doses down the drain, sold falsified vaccination cards for $50 each, and tricked kids into thinking they were vaccinated against COVID-19 by injecting them with saline, collectively, 391 times.
Federal prosecutors last week indicted Dr. Michael Kirk Moore Jr., who owns and operates Plastic Surgery Institute of Utah in Midvale, south of Salt Lake City, as well as the business' office manager, Kari Dee Burgoyne, its receptionist, Sandra Flores, and a neighbor of Moore's, Kristin Jackson Andersen. All four are charged with conspiracy to defraud the federal government, along with two counts related to improper disposal of government property.
According to the indictment, which was unsealed on January 17, Moore, Burgoyne, Flores, and Andersen set up a scheme in which the plastic surgery practice became a legitimate COVID-19 vaccine provider. Moore signed the government's COVID-19 Vaccination Program Provider Agreement in May 2021, allowing the site to receive bona fide, government-purchased COVID-19 doses. Between October 15, 2021, and September 6, 2022, the group ordered around 2,200 vaccine doses from the federal government.
Around October, the group began notifying people they knew were interested in fake COVID-19 vaccinations, whom federal prosecutors referred to as "Fraudulent Vax Card seekers." Burgoyne, the office manager, was put in charge of orchestrating the scheme, which worked like so: If a Fraudulent Vax Card seeker called the practice, Burgoyne would have them contact Andersen, Moore's neighbor. Andersen would then coyly screen contacts by asking them who referred them to the clinic, only accepting seekers who were referred by people who had already received a fraudulent vaccination card from the scheme. Andersen went through this screening process with two separate undercover agents.
Sham shots
Once screened, Andersen would direct a seeker to make a $50 "donation" per appointment per person via Venmo or PayPal, with the money going to an unnamed "charitable organization." Federal prosecutors noted that the charity was linked to an organization to which Moore belonged, which sought "to 'liberate' the medical profession from government and industry conflicts of interest."
After making the donation and confirming it with Andersen, the seeker would make an appointment with the plastic surgery center. When they came in, Flores, the receptionist, Burgoyne, or other staff would fraudulently fill out a COVID-19 vaccination card saying the seeker had been vaccinated. Meanwhile, the defendants would draw COVID-19 doses out of the government-supplied vials, "squirting them down the drain from a syringe," the prosecutors alleged. And that was it—unless, of course, the phony vaccination was for a minor.
Prosecutors noted that for minors, the group would administer shots of saline at the parents' request so that the children would believe they were being vaccinated against COVID-19. This was confirmed to one of the undercover agents, who asked about bringing in his children, to which Flores responded by handing him a note saying "with 18 & younger, we do a saline shot."
Throughout the scheme, the group reported the names of all the vaccine seekers to the Utah Statewide Immunization Information System, indicating that the practice had administered 1,937 doses of COVID-19 vaccines, which included 391 pediatric doses. The value of all the doses totaled roughly $28,000. With the money from the $50 vaccination cards totaling nearly $97,000, the scheme was valued at nearly $125,000, federal prosecutors calculated.
"By allegedly falsifying vaccine cards and administering saline shots to children instead of COVID-19 vaccines, not only did this provider endanger the health and well-being of a vulnerable population, but also undermined public trust and the integrity of federal health care programs," Curt Muller, special agent in charge with the Department of Health and Human Services for the Office of the Inspector General, said in a statement.
The defendants are scheduled to appear in court on January 26.