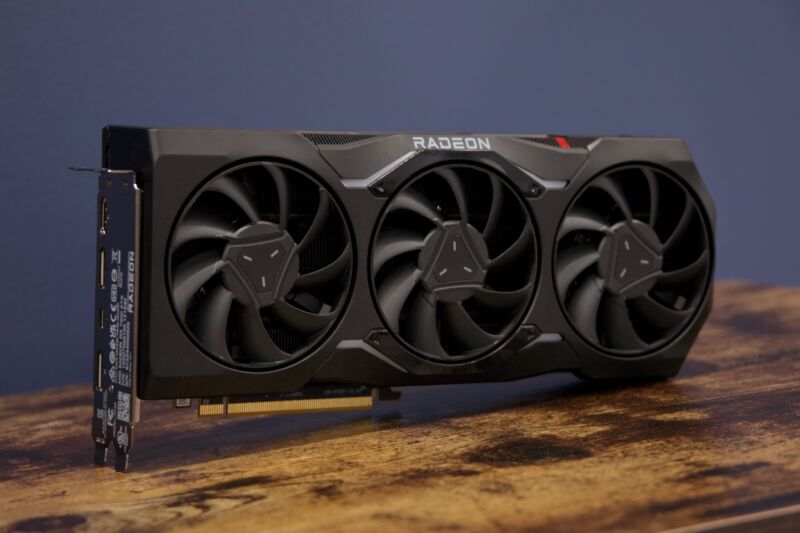 Nvidia's GeForce RTX 4090 has been through the PR wringer for the last few months because of problems with its power connector, but AMD's newest Radeon cards are proving capable of having issues, too. Some users have been complaining of overheating and thermal throttling in their RX 7900 XTX GPUs, and AMD confirmed that there was an issue in a statement to Tom's Hardware today.
"We are working to determine the root cause of the unexpected throttling experienced by some while using the AMD Radeon RX 7900 XTX graphics cards made by AMD," the statement reads. "Based on our observations to-date, we believe the issue relates to the thermal solution used in the AMD reference design and appears to be present in a limited number of the cards sold."
Independent testing suggests that the overheating issue may be caused by a faulty vapor chamber in the GPU cooler. The problem only appears to affect 7900 XTX models using AMD's reference design, including its fan and heatsink. ASRock, Gigabyte, PowerColor, XFX, and others all offer versions of the XTX with AMD's reference cooler alongside its own custom-designed versions. Versions with custom coolers shouldn't be affected by this specific problem.
The marginally cheaper RX 7900 XT also doesn't appear to be affected. If you have problems with your RX 7900 XTX, AMD says you should contact its customer support department.
We didn't observe higher-than-expected temperatures in our review of the RX 7900 XTX, which backs up the assertion that not all cards are affected. When you can find it at its $999 MSRP, the card is a solid performer at 4K and what passes for a good value in today's high-end GPU market. But as with the RTX 4080 and RTX 4090 before it, most MSRP cards are out of stock, and the few that are in stock are selling for much higher prices.