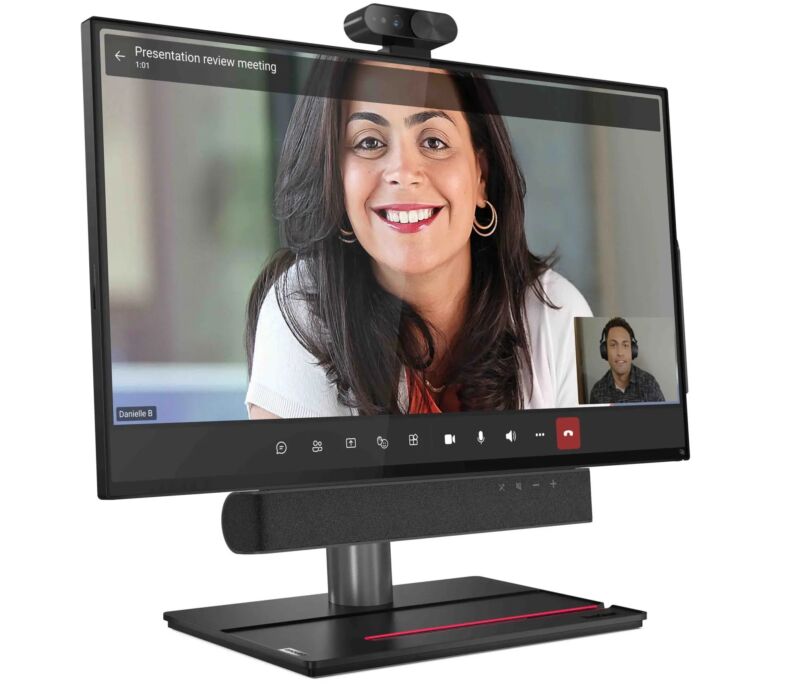 Smart displays have struggled to gain a foothold in a saturated market. Even an old smartphone or tablet can give the best smart displays a run for their money. From the Facebook Portal videoconferencing display and Amazon Echo Show 15 to Samsung's series of desktop-sized smart monitors, companies have been trying to find a purpose that sticks. The next effort is Lenovo's 27-inch ThinkView Plus. It attempts to find a niche for smart displays for business purposes but does so with a limiting focus on Microsoft Teams.
Announced at Information Systems Europe conference in Barcelona today, the ThinkView Plus is two parts videoconferencing display, one part USB-C monitor.
On the monitor side, you get decent connectivity options—one HDMI, one DisplayPort in and out, two USB-A ports, and one USB-C (versions not specified). However, at 1920×1080 resolution and a pixel density of only 81.6 pixels per inch, you're not going to get the type of image quality you might expect from the price tag alone. Lenovo hasn't specified the ThinkView Plus' panel type or other related specs.
The real cost is coming from the display's octa-core Qualcomm QCS8250 SoC that gives the ThinkView Plus Wi-Fi 6 support and enables it to run Teams, including accessing calendars, chat, and files, on an unspecified version of Android sans computer (the display's predecessor uses Android Open Source Project 8.1).
There's also an integrated 4K infrared and RGB camera that taps the SoC to run AI-based features, like auto-framing and automatic image-quality adjustments.
There are also four microphones, a pair of 5 W speakers, which, while interesting for long-term use, are said to be detachable and upgradeable. The display will come with a passive stylus and whiteboard app from Microsoft.
Lenovo sees the display used for "hot desking, phone booths, executive desks, and home office use cases," its announcement said. However, the monitor's low resolution will preclude it from many offices.
In monitor mode, users will be able to screenshare between the system and smart monitor "to simultaneously view content and presenters," Lenovo said.
Trying to make smart displays feel like a smart investment
Lenovo's ThinkView Plus is a follow-up to 2020's ThinkSmart View, an 8-inch, 1289×800 IPS screen currently selling for $350. It was one of the first so-called Microsoft Teams displays, which Microsoft describes as all-in-ones dedicated to Teams with exclusive features, like the ability to use "always-on and glanceable displays to see important activities and notifications without context-switching on [users'] primary work device," hands-free Cortana, and the ability to leave a lock screen note, video, or audio.
With a desktop monitor size, the new ThinkView Plus should offer more flexibility than its predecessor. But Lenovo hasn't exactly busted the smart display conundrum wide open.
By focusing on Teams and excluding other popular alternatives like Zoom, the ThinkView Plus initially feels rather limited, which is particularly alarming in an emerging tech category that already feels niche.
The ThinkView Plus also doesn't have a distinct, need-to-have advantage over already-existing products. We could see it in an office phone booth for quick calls and, perhaps, at a hot desk. But in both cases, a laptop with a decent webcam or a higher-resolution monitor equipped with a strong USB webcam can get a similar effect for less money.
This is similar to Samsung's line of consumer smart monitors that offer streaming TV services and a remote, just like the bounty of smart TVs many people already own that come in bigger sizes and with more advanced display technologies, such as OLED. Many of Samsung's smart monitors stand out with low prices, but that's not the case with Lenovo's business-focused ThinkView Plus.
Lenovo's ThinkView Plus will also have to contend with other displays with integrated webcams, including the Dell UltraSharp U3223QZ, which has 4K resolution, a 4K camera, and, as we learned during testing, a quality IPS Black panel.
With the International Data Corporation predicting that smart home shipments will grow by a compound annual growth rate of 8 percent from 2022-2026, we will continue to see companies experiment with how to make smart displays "a thing," especially as they fail to make money off of smart speakers. The Facebook Portal already completed its shift from consumers to businesses. We'll see if the ThinkView Plus can help smart displays find their place in offices when it hits "select markets" in mid-2023.