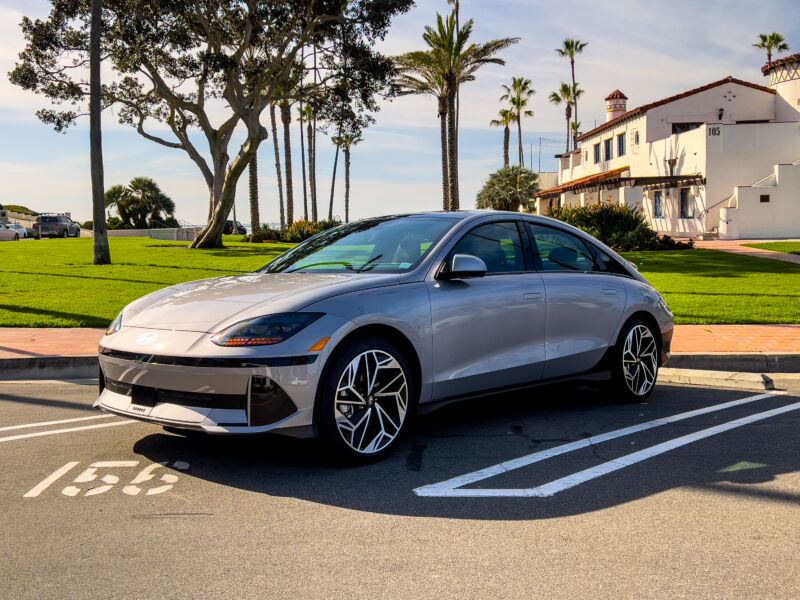 Hyundai has announced the pricing structure for its next electric vehicle, the Ioniq 6. And it's competitive, especially with the introduction of a smaller battery option. As a result, the curvaceous EV starts at just $41,600, with the range topping out at $56,100.
Hyundai says that the $41,600 Ioniq 6 SE RWD standard range, which will use a 53 kWh battery pack for a range of 240 miles (386 km), will be "available in limited quantities this summer," suggesting it might be hard to track one down.
An EV range of 240 miles is probably enough to evoke range anxiety in many non-EV drivers. But don't fret; the Ioniq 6 SE RWD long range, which uses a 77.4 kWh battery pack to best effect and 361 miles (581 km), is the next-cheapest at just $45,500. Adding a second motor to the long-range Ioniq 6 bumps the price up to $49,000 and drops the range to a still-impressive 316 miles (509 km).
The SEL and Limited trims both come with 20-inch wheels that drop the range to 305 miles (491 km) for the rear-wheel drive versions (SEL, $47,700; Limited $52,600) and 270 miles (435 km) for all-wheel drive (SEL, $51,500; Limited, $56,100).
As has come to be the case with Hyundai, there's plenty of standard equipment on the Ioniq 6, including a suite of advanced driver assistance systems including blind spot monitoring, rear cross-traffic alerts, adaptive cruise control, and lane keeping.
The Ioniq 6 uses Hyundai Motor Group's new E-GMP platform, purpose-designed for medium and larger BEVs. It uses an 800 V electrical architecture that, among other efficiencies, allows for very rapid DC charging, taking a battery from 10-80 percent state of charge in just 18 minutes.
We've already sampled E-GMP to good effect in the '80s-inspired Ioniq 5 crossover, Kia's EV6, and the Genesis GV60, each of which proved a competent and efficient EV. Ars has actually had some seat time in the Ioniq 6 now, too, but we're not allowed to tell you how it drives until early April.