The new Android Auto is super flexible. Here's a big-screen mode.


Google

A super wide display.


Google

The traditional 16:9-ish display.


Google

Notifications pop up like this.


Google

And then the music player shrinks and the notification moves to the sidebar.


Google

Quick replies.


Google

The Google Assistant offers quick access to your top contacts.


Google
After a big delay, Google's big revamp of Android Auto is finally here. This new version of Android Auto puts a big focus on a new split-screen interface, which is a lot more flexible than the old, rigid Android Auto display. This update was first shown off at Google I/O and promised in the summer of 2022, but somehow that got pushed back to CES 2023. Car apps have a lot of safety regulations to go through.
Android Auto is an app that lives on your phone and sends a custom interface (wirelessly or wired) to a compatible car's dashboard. Unlike regular Android, which can scale to any size or shape display, Android Auto was originally designed rigidly around a horizontal 16:9 display. It's been updated over the years to be slightly more flexible, but it has always wanted to live in this horizontal, widescreen configuration. Not all car screens are widescreen, though, and for cars like the Volvo XC90, which has a big 4:3 iPad-style screen in the center console, Android Auto was just in a tiny window in the middle of the display. Some manufacturers gave it a letter or pillar box. Apple's CarPlay received a similar flexibility update in iOS 13.
Unlike the old version, the split-screen interface should be able to adapt to any rectangular screen.  There are three components: a navigation bar, the main app interface, and a smaller sidebar section that can show one or two additional widgets. These can all be configured in a way that makes sense for the screen's shape. The navigation bar can be on the right side or the bottom. The main app interface can be next to the sidebar section or stacked on top. The sidebar can be a tall vertical strip or a skinny horizontal strip. Some configuration is going to work!
The sidebar is the most interesting new addition to Android Auto. It seems to work just like Android's notification bar but is super-sized for cars. It can show controls for the currently playing media or media suggestions. It can turn into a split-screen mode, where the top item will show the latest notification, which can be an incoming text message, an option to share your arrival time, or the weather.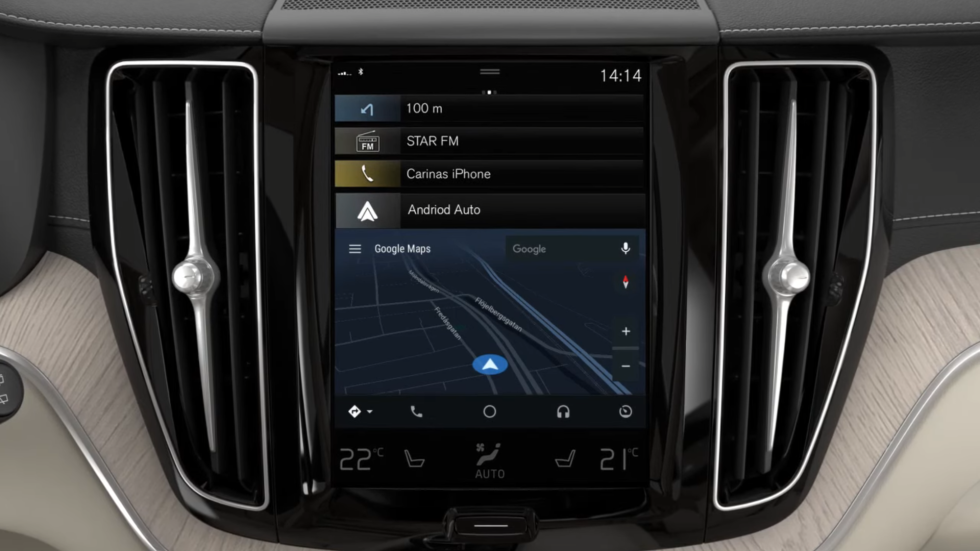 Some of those options are from the new Google Assistant smart suggestions, which include "missed call reminders, quick arrival time sharing and instant access to music or podcasts. On-screen shortcuts speed up message replies and calling favorite contacts."
Google is also adding a seekable process bar for Android Auto music and podcasts apps, which will automatically apply to every Android Auto media app. Car safety regulations in Android Auto mean app developers don't get to do things like design a user interface—Google has a pre-built media interface that Spotify, YouTube Music, and every other media app needs to use—the developers only provide a media stream, branding colors, and pick from a few button options. This pre-built interface is being updated, so every app will automatically get it.
While the app update is rolling out now, it's unclear if existing cars with bigger screens need to be updated to support this new automotive config.