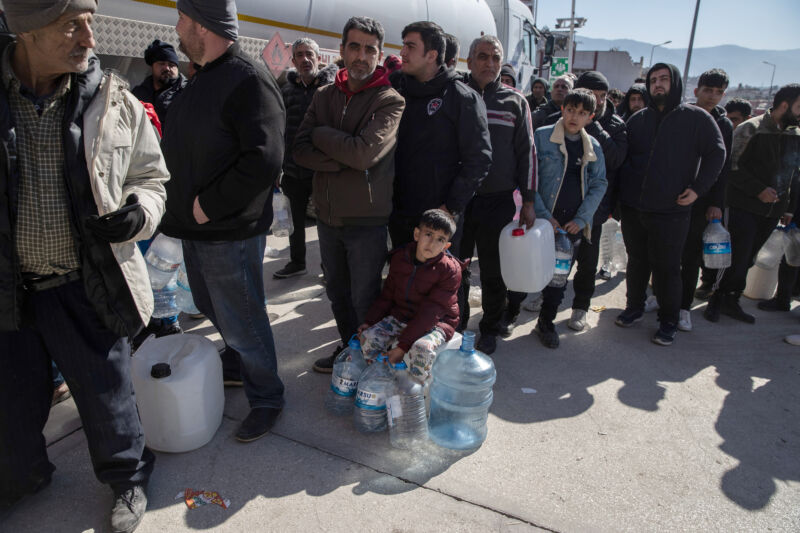 Deaths from the massive earthquake and aftershocks that violently struck parts of southern Turkey and northern Syria in the early hours of Monday have now surpassed 20,000—a staggering toll of devastation.
As of Thursday, Turkey's national emergency management agency reported more than 17,000 deaths, as well as over 70,000 injured. Syrian Ministry of Health, meanwhile, reported 1,347 deaths and 2,295 injured. Rescuers in rebel-held northwest areas of the country reported at least 2,030 deaths and at least 2,950 injured.
As heroic rescue crews continue sifting through the rubble of collapsed structures, concern is growing for those tens of thousands injured and countless others made more vulnerable by the crisis.
"Basics of life"
"The health needs are tremendous," Iman Shankiti, a representative of the World Health Organization for the Syrian Arab Republic, said Wednesday. In comments on the situation in war-torn Syria, she added: "It's important to note that the health system has suffered for the last 12 years and continues to suffer and continues to be strained by the ongoing emergencies, and the last one is this earthquake."
While international aid and rescue teams face logistical challenges to reach affected areas, survivors struggle with the "basics of life," Robert Holden, WHO's earthquake response incident manager, said. That includes access to food, water, shelter from life-threateningly cold weather, and health care, in addition to fuel, electricity, and communication systems.
"We've got an immediate focus here of life-saving but, at the same time, we've got an imperative to make sure that those that survived the initial disaster continue to survive going forward—and we can't reinforce that point enough," Holden said. "We are in real danger of seeing a secondary disaster, which may cause more harm to more people than the initial disaster," he added.
There was a particular concern for Syria, where communities faced various other public health threats, including an explosive cholera outbreak.
Cholera outbreak
The day before the earthquake hit, the United Nation's Office for the Coordination of Humanitarian Affairs (OCHA) released the latest report on the outbreak, which began in August. Since then, health officials have tallied nearly 85,000 cases of the waterborne bacterial infection and 101 deaths from the acute watery diarrhea it causes. The report included data up to the week ending on January 21, in which there were 2,750 cases observed.
Syria is one of 23 countries currently battling cholera outbreaks, which have been exacerbated by a global shortage of vaccines. The cholera vaccine shortage is largely due to a lack of funding and a surge in outbreaks worldwide.
Some of the areas hardest hit by Syria's cholera outbreak overlap with those heavily impacted by the earthquake, namely areas around the cities of Aleppo and Idleb. Areas around Idleb, which has been ravaged by the civil war and is rebel held, have accounted for 28.5 percent of Syria's cholera cases. Areas around Aleppo have accounted for 23 percent of cases.
Now health officials fear for the state of the water supply, among many other things. An earthquake response update Thursday from OCHA said, "Preliminary reports indicate significant damage to the water networks." The agency expects cholera cases to increase. "Turbidity, contamination, and reduced functionality have been reported, and as such there is anticipated higher risk of waterborne illness, including exacerbation of pre-existing cholera and hepatitis A outbreaks," it wrote.
On Wednesday, WHO's Shankiti reported that the WHO has dispatched more than half a million water disinfection tablets to Syria alongside trauma kits.
Secondary crisis
"There is a secondary health crisis emerging in the aftermath as underlying health risks will likely be exacerbated," Adelheid Marschang, WHO senior emergency officer, said. "I'm speaking about and especially in the case of Syria. There are real diseases, including cholera, respiratory illnesses, leishmaniasis, physical and mental trauma and disability, secondary wound infection, etc. And the worsening of chronic conditions, non-communicable diseases due to the disruptions of continuity of care and the capacity to treat ongoing regular health issues. And, as I've seen myself, these capacities have been gravely affected due to the longstanding pre-existing complex crisis."
OCHA's Thursday update also noted that an estimated 148,000 pregnant women are in earthquake-affected areas of Syria, and 37,000 are expected to give birth over the next three months. More than 5,000 may experience complications requiring emergency care.