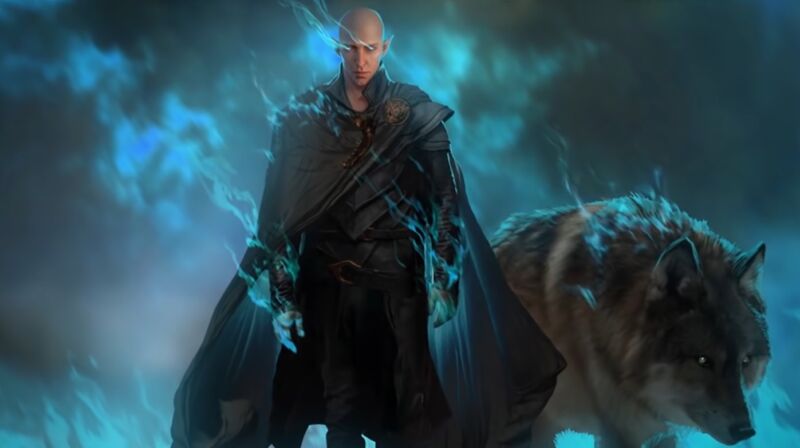 BioWare's Mac Walters used a LinkedIn post this weekend to announce the end of a 19-year career at the company. The move is yet another in a long line of shakeups for the leadership team behind the sprawling, long-anticipated Dragon Age: Dreadwolf, on which he served as production director.
Walters' history at BioWare was primarily focused on the Mass Effect series, where he served as a writer and designer before rising to project director for 2017's Mass Effect: Andromeda and 2021's Legendary Edition remaster. He transitioned to the Dragon Age team after Legendary Edition to serve as Dreadwolf's production director, a role he said was akin to "both producer and director" in TV/film terms.
"So you have the vision for a product you're helping to uphold—something you and the team want to do—but on the producer side, you are also responsible for figuring out how you're going to support the team in creating that vision," Walters said in a May interview posted on the BioWare corporate site. "And then you work with the team to actually execute that vision."
Walters writes that his decision to leave came "at the end of last year," and called his time at the Dragon Age and Mass Effect studio "a life-changing experience… I've worked with so many wonderful people and had the privilege to be a part of the most amazing teams and projects. It's hard to fathom it all, and I know I'll be reflecting on it for years to come."
Not the first, maybe not the last
Walters' departure comes just over two years after that of Dragon Age Executive Producer Mark Darrah and BioWare General Manager Casey Hudson (the latter of which had previously left the studio in 2014 before returning). Christian Dailey, who had taken over the Dragon Age executive producer role from Darrah, then also left the company just under a year ago. And in late 2021, Dragon Age Senior Creative Director Matt Goldman left BioWare after four years working on the unreleased project.
This all came after BioWare founders Ray Muzyka and Greg Zeschuk left the company behind in 2012, years before "Dragon Age 4" began earnest development in 2015. Since then, the game's development has had its fair share of reported troubles, including a brief internal cancellation and a complete overhaul from a planned "live service" multiplayer experience.
Following a cinematic trailer in 2020, BioWare finally revealed the Dreadwolf name and a few story details last June. Since then, the closest we've come to any gameplay updates is a concept-art-filled story trailer from last month. There's still no sign of a planned release date for the game.