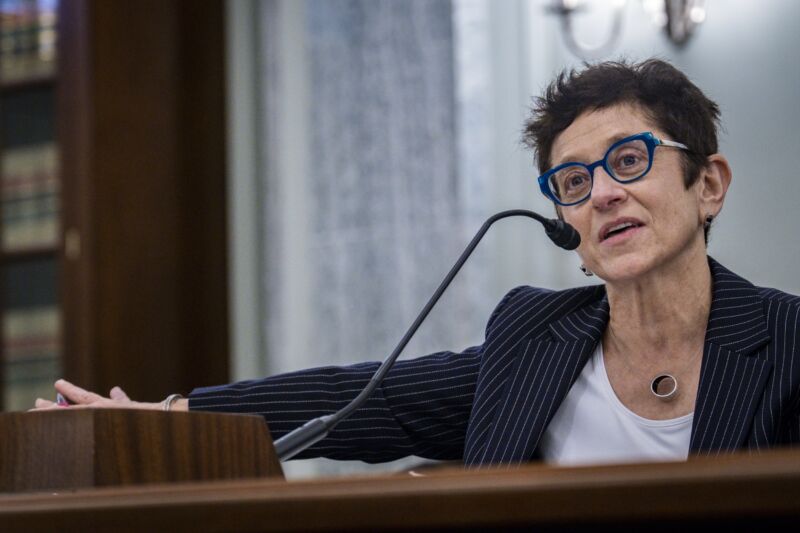 President Biden's long-stalled nominee to the Federal Communications Commission fired back at her critics today, saying that the telecom industry shouldn't be allowed to choose its own regulators.
"I believe deeply that regulated entities should not choose their regulator," Sohn said in prepared testimony for a Senate Commerce Committee nomination hearing today. "Unfortunately, that is the exact intent of the past 15 months of false and misleading attacks on my record and my character. My industry opponents have hidden behind dark money groups and surrogates because they fear a pragmatic, pro-competition, pro-consumer policymaker who will support policies that will bring more, faster, and lower-priced broadband and new voices to your constituents."
Biden first nominated Sohn, a longtime consumer advocate and former FCC official, on October 26, 2021. The full Senate never voted on whether to confirm Sohn as an FCC commissioner, and Biden renominated her last month. With the FCC deadlocked at two Democrats and two Republicans, Chairwoman Jessica Rosenworcel hasn't been able to pursue any major regulation of an industry that was deregulated during the Trump era.
"The FCC has been without a majority for the entirety of the Biden administration—over two years—at a time when closing the digital divide is front and center," Sohn's testimony said. "There are too many important issues in front of the commission to lack a full complement of members, including improving the broadband maps, fixing the Universal Service Fund, closing the homework gap, ensuring fair access to broadband, and protecting consumers' privacy. Americans deserve a full FCC where I could play a critical role in addressing every one of these, but time is of the essence."
Nominee: FCC needs a consumer advocate
Sohn co-founded the consumer advocacy group Public Knowledge in 2001 and led the organization until taking a position as counselor for then-FCC Chairman Tom Wheeler in 2013. She has continued to argue for consumer-protection regulations since leaving the FCC in 2016.
"I believe it is critical for at least one member of the FCC to be a consumer advocate who has spent a career not beholden to any interest but that of the public," Sohn's testimony said. "I've certainly worked with industry toward common goals and many in industry are among the over 400 groups that support my confirmation, but my roots and my heart are with the everyday Americans the FCC by law is tasked to serve."
Republicans such as Sen. Ted Cruz (R-Texas) lined up against Sohn in her previous nomination hearings, claiming she would use a post at the FCC to censor conservatives. Contradicting those criticisms, executives at conservative news networks Newsmax and One America News Network supported Sohn's nomination and praised her longtime commitment to free speech.
The National Association of Broadcasters denounced Sohn for being a former board member at Locast, a nonprofit online TV service that shut down after losing a copyright case launched by major broadcast networks. Comcast apparently lobbied against Sohn behind the scenes despite not publicly opposing the nomination.
Sohn faced "homophobic and sexist fearmongering"
More recently, conservative media outlets attacked Sohn for being on the board of the Electronic Frontier Foundation because of the group's battle against the Fight Online Sex Trafficking Act (FOSTA), which the EFF called unconstitutional censorship of speech on the Internet. A Daily Mail headline last month said, "Biden's FCC nominee Gigi Sohn sits on board of nonprofit that wants to uphold online sex work and that honored an OnlyFans dominatrix who boasts about urinating on faces." A Fox News headline described the EFF as a "group that opposes anti-sex trafficking efforts."
Sohn, who is being joined by her wife and their daughter at today's hearing, has been "met with homophobic tropes and attacks against herself and her family," a recent letter from advocacy groups to senators said. "Homophobic and sexist fearmongering should have no place in the consideration of Gigi's qualifications… We call upon every member of the Senate to condemn homophobia and sexism and consider Gigi's nomination on its merits," the letter said.
A spokesperson for the Senate Commerce Committee's Democratic leadership said today, "We've seen a campaign of meritless smears and attacks against Gigi Sohn from opponents who clearly do not want to see a pro-competition, pro-consumer expert on the commission."
For the cable and telecom industries, trying to block Sohn's nomination is about avoiding consumer-protection regulations. "Ms. Sohn is one of the leading advocates for policies that amount to regulatory overreach in the broadband market," the US Chamber of Commerce said in a letter to senators yesterday. The business group also called Sohn's support of government-owned broadband networks "alarming."
"It would be a mistake to embrace a public option for broadband instead of focusing on private sector providers who have helped the United States lead the world in quality and resilience," the Chamber of Commerce said.