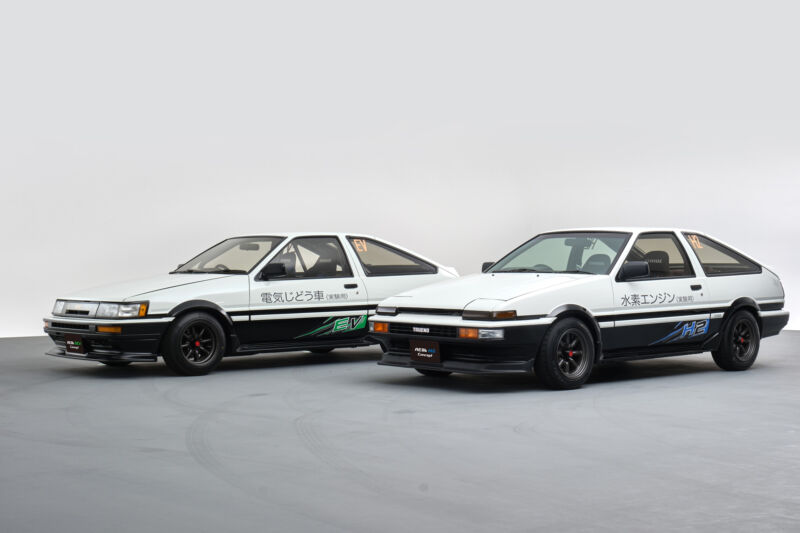 I don't know about you, but I adore a good restomod. Restomodding is the practice of taking a classic car and restoring it—while modernizing it at the same time. In the past, that might have meant putting modern AMG powertrains in classic Mercedes-Benz Gullwing bodies, but these days, my attention is more drawn to electric conversions.
Sadly, the cost involved is still prohibitive for most of us, but that's less true if you're a car company like Ford, General Motors, or Jaguar. Or in today's case, Toyota, which surprised and delighted this year's Tokyo Auto Salon with a pair of restomodded AE86 coupes, a car best known for its starring role in Initial D.
The idea behind the project was to boost carbon-neutrality prospects "for protecting beloved cars," according to Toyota. The company says it worked with aftermarket suppliers to rejuvenate old stock and use recycled materials wherever possible.
AE86 BEV Concept
Aside from the decals along the side, you'd be very hard-pressed to tell there's anything unusual about this Toyota AE86 Corolla Levin.


Toyota

Toyota worked with aftermarket suppliers to rejuvenate old stock.


Toyota

Opening the hatch reveals what has happened here. The 1.6 L four-cylinder engine is gone, replaced with the electric motor from a hybrid Toyota truck.


Toyota.

The AE86 BEV Concept uses a battery pack from a Prius PHEV.


Toyota

Range might not be great, but the BEV concept should be fun to drive while there's charge in the cells.

"Look ma, no exhaust pipe!"


Toyota
One of the pair will probably make more sense to you than the other. The car with exposed headlights, which uses a Toyota Corolla Levin bodyshell, swaps the donor car's engine for the electric motor found in the new hybrid Toyota Tundra pickup—presumably with a bit of a power increase over that motor's 48 hp (36 kW) rating, although the company is being rather tight with details.
The battery pack has been donated by a Prius plug-in hybrid. The paltry 8.8 kWh battery would limit the car's practical range, but you'd probably have fun running it down. Toyota has kept the AE86's transmission—a practice common with less powerful EV restomods—and the company says that combined with the "robust driving force characteristics of a battery electric vehicle," you get "a vehicle that offers even greater driving pleasure than the original."
AE86 H2 Concept
Even more intriguing is the second restomod. Based on the pop-up headlight Sprinter Trueno bodyshell, this one is called the AE86 H2 concept, and it runs on hydrogen. And like a recent one-off race car being campaigned by Toyota President Akio Toyoda, the AE86 H2 Concept uses the fuel in an internal combustion engine, not a fuel cell.
The AE86 H2 Concept uses a Sprinter Trueno shell—note the pop-up headlights, albeit in the closed position.


Toyota

A look in the AE86 H2 Concept's engine bay would not suggest that anything is amiss to most people. A keen eye will note the different fuel pipes, injectors, and spark plugs.

Beneath a shiny carbon fiber cover in the rear hatch, you'll find a pair of H2 tanks from the Mirai fuel cell EV.


Toyota

The H2 Concept has a much less stripped-out interior than its BEV Concept sibling.


Toyota

The AE86 H2 Concept still has an exhaust pipe, but it should mostly emit steam.


Toyota

Toyota says that "it will take time before all new vehicles are carbon neutral. Simultaneously promoting the carbon neutralization of not only new vehicles but also of vehicles currently in customer use is essential for the future." But don't expect any production plans for either of these show cars.


Toyota.
Under the hood, it retains its original 1.6 L, four-cylinder 4A-GE engine and transmission, but if you were to lift the rear hatch, you'd find a pair of hydrogen tanks from the Toyota Mirai fuel cell EV. A careful look in the engine bay would reveal some new fuel injectors and spark plugs for the change in fuel.
Burning hydrogen in an internal combustion engine is not particularly efficient, and it doesn't generate much power compared to using gasoline, so the AE86 H2 Concept might offer degraded performance compared to the original. Toyota said the purpose of the concept is to develop "a vehicle that can be driven while enjoying the internal combustion engine's appeal points of sound and vibration."
It's very unlikely that either of these concepts will see production plans, and I doubt we'd get a third-party restomod involving a hydrogen combustion engine. But it would be cool to see a growing number of EV restomods from the import tuner scene in the coming years.