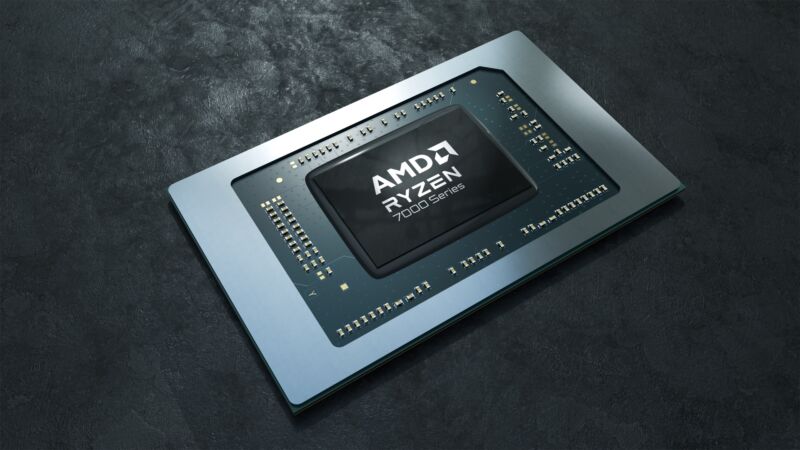 A few months ago, AMD introduced a new numbering system for its upcoming laptop processor refresh. The schema is, as we wrote at the time, simultaneously less and more confusing than one which simply assigns a larger number to a faster product. It does make it possible to know exactly what's in the processor you're using, as long as you have the handy decoder ring that tells you which number means what. But it's also a way for AMD to relabel as "new" a handful of older processors from years past.
There are five different CPU series that comprise the Ryzen 7000 lineup that AMD is announcing today. Below is the AMD-provided table that tells you what parts each series uses, along with some additional context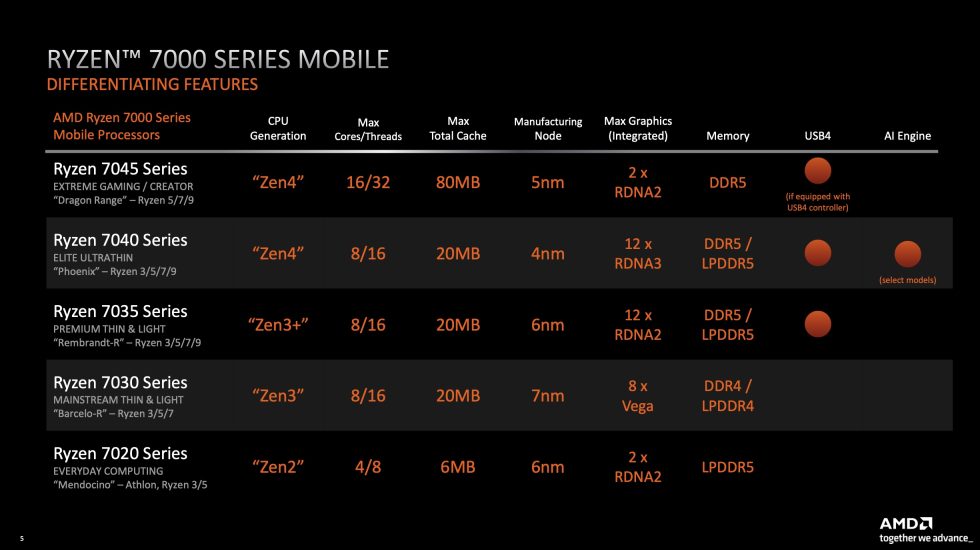 Ryzen 7045 series ("Dragon Range"): For high-end gaming and workstation laptops, meant to be paired with a dedicated GPU. Essentially Ryzen 7000 desktop processors repackaged for laptops, like Intel's HX series.
Ryzen 7040 series ("Phoenix"): The only all-new chip in the lineup. A Zen 4 CPU combined with an RDNA 3 integrated GPU and built on a 4nm process, this is the flagship for premium thin-and-light laptops without dedicated GPUs.
Ryzen 7035 series ("Rembrandt-R"): Ryzen 6000 with a new name.
Ryzen 7030 series ("Barcelo-R"): Ryzen 5000 with a new name. Barcelo was technically launched in 2022, but for most intents and purposes it was identical to 2021's "Cezanne" processors. These are the only CPUs in the lineup to include an integrated GPU based on the aging Vega architecture, and to support DDR4 and LPDDR4 instead of DDR5 and LPDDR5.
Ryzen 7020 series ("Mendocino"): Already announced and launched, these use the old Zen 2 CPU architecture but otherwise are purpose-built from modern parts on a modern manufacturing process specifically for cheap laptops.
The 7045 and 7040 series are the most significant of the new announcements. There are four of the 7045 CPUs, each corresponding to a different Ryzen 7000 desktop CPU: the 7645HX is a refactored 7600X, while the 7745HX, 7845HX, and 7945HX map roughly to the 7700X, 7900X, and 7950X. Each has the same amount of cache as its desktop counterpart, each supports the same DDR5 memory (notably not LPDDR5), and the same basic integrated GPU.
These chips are a big step up for AMD's high-end laptop processors, which previously topped out at eight CPU cores. AMD says laptops using HX-series CPUs will begin shipping in February.
The 7040 series is more of an evolution of where high-end Ryzen laptop chips used to be. They likewise have a maximum of eight CPU cores, plus the same GPU architecture as the brand new Radeon RX 7900 graphics cards. For people who occasionally play games when they travel or just want a gaming laptop that isn't overly hot or bulky, these should be more than capable of playing modern games at reasonable settings, especially for games with FSR 2.0 support.
Overall, AMD's lineup seems reasonably strong and logical, putting aside the patchwork of different technologies involved. Both Mendocino and Barcelo-R chips will deliver decent budget-to-mainstream laptop performance. Rembrandt-R is still a strong chip, with much better battery life than some of Intel's 12th-gen (and probably 13th-gen, given how similar they are) laptop CPUs and good enough graphics performance for some light gaming on the road. We'll need to test the newer Zen 4-based CPUs to be sure, but given Zen 4's efficiency and AMD's recent string of solid laptop processors, they look promising.
Regardless, the new numbering scheme still feels confusing and best and lightly misleading at worst. We'll see if the PC makers come up with a way to signal to people that they're getting the "best" of the Ryzen 7000 lineup, aside from publishing the model numbers and hoping people can make sense of them.