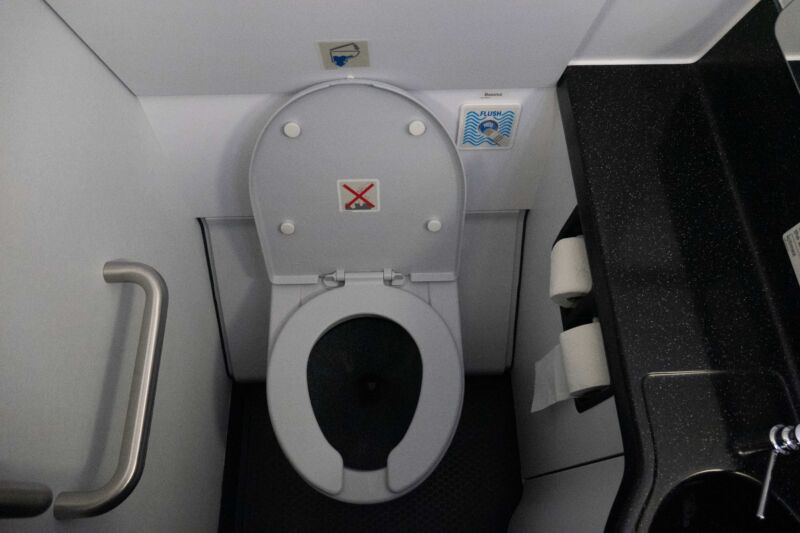 The US Centers for Disease Control and Prevention is considering blending sewage sampling from airplanes into its wastewater surveillance system, which has proven useful for monitoring the spread and prevalence of a variety of pathogens, particularly SARS-CoV-2.
Amid the pandemic, the CDC launched wastewater testing programs across the nation, trying to get ahead of SARS-CoV-2 surges. Viral particles are often shed in fecal matter and can be an early indication of an infection. The fecal focus has proven useful for sniffing out community-wide transmission trends and disease spread for not only COVID-19 but also other recent outbreaks as well, namely polio and mpox (formerly monkeypox). Adding surveillance from airplanes and airports could flush out yet more information about infectious disease spread, such as global travel patterns and the debut of novel viral variants.
A study published last week in PLOS Global Public Health found such sewage surveillance in UK airport terminals and airplanes was effective at tracking SARS-CoV-2 among international travelers. Overall, the surveillance data suggested that it is a "useful tool for monitoring the global transfer rate of human pathogens and other disease-causing agents across international borders and should form part of wider international efforts to monitor and contain the spread of future disease outbreaks," the authors, led by Kata Farkas of Bangor University, concluded.
Additionally, a report released last week from the National Academies of Sciences, Engineering, and Medicine also concluded that wastewater surveillance was useful during the pandemic and "worthy of further development and continued investment." That includes expansion to sites such as airports to "monitor for specific emerging pathogens at their points of entry."
The possibility that the CDC may surveil airborne sewage first came to light in a report by Reuters at the end of December. At the time, the agency's thinking centered around the explosion of COVID-19 cases in China and a dearth of data from the country following its abrupt lifting of its zero-COVID policy. The situation raised fears that the wave could generate a new variant and that infected travelers streaming from the country could spur waves elsewhere.
This week, CDC officials told reporters that the agency is still exploring the possibility. "Airplane wastewater surveillance could potentially be an option" to help slow the introduction of new SARS-CoV-2 variants, CDC press officer Scott Pauley told NBC News.
Unnamed CDC sources told CNN Wednesday that the agency is coming to grips with "logistical and legal" aspects of dipping into waste from airplanes. As Farkas noted to NBC, long international flights might be the most useful for surveillance, because longer flight times increase the potential that people will use the bathroom while onboard. But foreign airlines might be reluctant to allow excrement extraction from their aircraft.